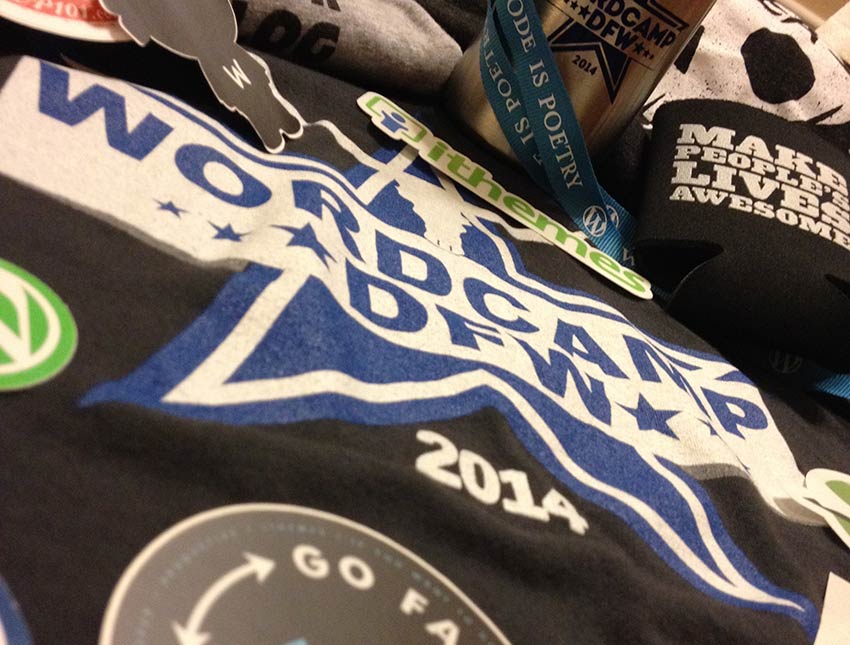 WordCamp DFW and clicking publish.
So, WordCamp DFW just wrapped up! It was my first WordCamp and I've gotta say it was pretty dang inspiring. I've been to a few other design conferences and while the production may have been bit more extravagant, they had nothing on the genuine enthusiasm for community that I felt at WordCamp.
Cory Miller's keynote, "The Click Publish Moment" (view the slides), really struck a chord with me as I have been on a personal mission this year to put on some pants, step outside and say "Hello World!" I am extremely introverted and could probably be diagnosed with a moderate case of social anxiety disorder so it hasn't been easy. If it weren't for people like Cory and my amazing wife, I might fall in with the likes of Sasquatch, Nessie, or the Goatman.
I had initially planned on parking my butt in the development track and was prepared to get knee deep in code, but instead found myself in the main room all day. I must admit here that I am not fond of taking notes and after arriving at the venue I quickly decided I wanted to stick to material that wasn't as technical; sessions that I could just stow all of my devices and tune in.
Value requires courage, hourly only requires a calculator.

~ Kirk Bowman
I got what I was looking for right out of the gate. Kirk Bowman stepped up to start his session and blammo@#! (ok, maybe it wasn't that dramatic) the projector went dark. A minute or so passed and Kirk carried on sans projector. He delivered a great talk on creating value and determining price. If you can't wait for the talk to be available online head over to artofvalue.com to learn more about Kirk's passion.
Sheryle Gillihan on Scoping Projects at #WCDFW pic.twitter.com/dzr8ETSkDe

— Rudy Lopes (@yankeerudy) October 4, 2014
Session 2 posed quite a dilemma for me. I really wanted to sit in on Sheryle Gillihan's talk on Scoping Projects, but after 16 years of marriage I knew that just being in the room would make her more nervous than she already was. So, I wished her luck and headed back to the main auditorium for Cristoph Trappe's session on authenticity.
To be honest, I was pretty distracted watching the live tweets from Sheryle's talk and I probably missed out on some of the better bits of Cristoph's session. Thankfully WordPress.tv should have me covered and Cristoph has his slides up over at The Authentic Storytelling Project.
All of the sessions I attended were great. Trisha Salas opened our eyes to the value and importance of building accessible websites. I also really enjoyed Paul Clark and Daniel Espinoza's sessions, taking away that I'm still not charging enough and that I could be doing it from anywhere.
We did make it to the speaker's soiree and after party and met tons of great WordPressers in the process. My oldest daughter even sat through the entire Beginner's track and came out with a good amount of enthusiasm. Which is something that seems to be in short supply when it comes to brooding teenaged girls.
All in all — good times were had, great people were met and new relationships made. This post took me like 3 days and 40+ revisions to peck out and even this is a bit scary, but this is me — Clicking Publish.